News and in-depth analysis of offshore wind power, offshore wind farms and wind industry companies and policy in the United Kingdom.

UK: A new offshore wind project and a new benchmark set. MHI Vestas has installed the first turbine at Vattenfall's European Offshore Wind Deployment Centre (EOWDC), with a capacity of 8.8MW -- the highest-rated turbine installed in the water to date.

UK: Technicians for offshore services supplier CWind, now part of Global Marine Systems, prepare to service one of the MHI Vestas 3.0MW turbines at E.on's Humber Gateway project off eastern England

NORWAY/UK:The first commercial floating wind project is close to reality with the turbines mounted on their foundations in Norway and the tugboats ready for the voyage to Scotland.
Top Offshore Wind Countries
Windpower Offshore Events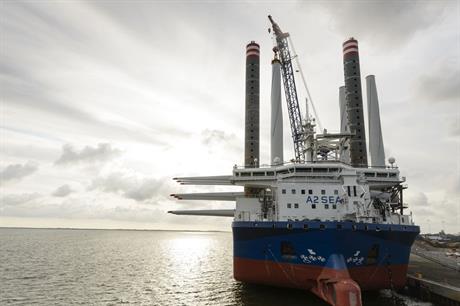 UK: New build cemented the UK's position as offshore market leader, and two major turbine manufacturers are setting up production facilities in the country. But a new support system is creating uncertainty, particularly for the biggest developments.