News and in-depth analysis of offshore wind farm projects, companies and government policy & incentives in leading offshore wind energy countries around the world.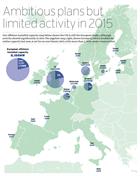 EUROPE: Windpower Offshore looks at the major players in Europe that are leading the way in the offshore market.

EUROPE: Our offshore installed capacity map below shows the UK is still the European leader, although activity slowed significantly in 2014.