News and in-depth analysis of offshore wind farm projects, companies and government policy & incentives in leading offshore wind energy countries around the world.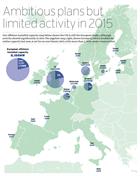 EUROPE: Windpower Offshore looks at the major players in Europe that are leading the way in the offshore market.

EUROPE: Our offshore installed capacity map below shows the UK is still the European leader, although activity slowed significantly in 2014.
Latest Offshore Wind Jobs
competitive: Shell: We need a source of electrical expertise to join our newly formed team focused on building Shell's new energies portfolio. Den Haag...

£350.00 - £400.00 per day: Allen & York Ltd: Excellent opportunity for an Environmental Advisor to work on a 12 mth contract, based in Ipswich and travelling...